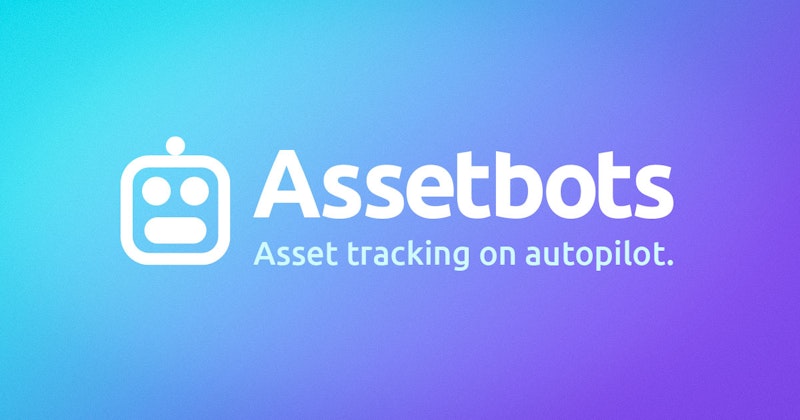 Introducing Assetbots!
Today we are excited to announce Assetbots, a new software product from the team at Dispoteca! We have been working hard behind the scenes for the last couple of months, and we would love to share our progress so far and our plans moving forward.
What is Assetbots?
Assetbots is a modern, easy-to-use online asset tracking system. With Assetbots, organizations can easily figure out where all their assets (IT equipment, tools, inventory; anything of value) are located and track their movement, value, lifecycle and more. If your company is interested in getting organized, eliminating theft and loss, and saving money, then Assetbots is for you.
Okay, But Why Should I Choose Assetbots?
We are so glad you asked. There are several asset tracking software options on the market, but none of them solve the main problems organizations face when tracking their assets in 2021. Assetbots is built from the ground up to be:
Easy to use, no installation necessary. Anyone on your team should be able to participate in your asset tracking program, whether they are requesting to reserve a projector, checking in their laptop, or running a depreciation report for the accounting department.
Integrated into your existing systems. Duplicate data entry is expensive and error prone. You should be able to automate as much as possible, especially when getting started. Assetbots sees integrations as a cornerstone feature, not an afterthought.
Optimized for today's remote work force. Stop manually managing equipment for your remote workers. Remote checkouts and check-ins integrate directly with UPS and FedEx to give you unprecedented visibility into asset movement and save you tons of time.
Affordable for teams of any size. Assetbots should be a no brainer no matter your budget, and it should pay for itself in a matter of months, not years.
Development Roadmap
We are developing Assetbots in the open in partnership with our early users. We are excited to be able to deliver exactly what today's organizations need in their asset tracking solution, and we think working collaboratively is the best way to achieve that.
If you would like to sign up now, you will enjoy free, unlimited access to Assetbots for your first year, and reduced pricing forever. You will also be able to shape the Assetbots platform to meet your needs and enjoy direct contact with our team for support and advice along the way.
Follow Along
If you are interested in what we are doing but are not quite ready to sign up, we understand. We would still love to hear from you! We will be posting regularly to our blog, LinkedIn and Twitter pages, so if you're interested in tips, tricks and advice on staying organized, running your business on software, and building a sustainable future, please follow us!
Finally, if you have questions, comments, or advice, we would love to hear from you directly. Please reach out any time!
Get started for free
We're inviting a limited number of organizations to join our beta program and enjoy free, unlimited access to Assetbots for the first year, plus reduced pricing forever.
$499/year$0